Sardinian Cheese
Low moisture cheese or hard cheese matured, semi-fat to fatty. Made with whole milk or part-skim, acidified by lactic bacteria crop and rennet coagulated goat or lamb and / or specific enzymes.
---
Label presentation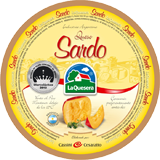 » CLICK TO ENLARGE
La Quesera Sardinian Cheese
×
---
Technical and nutritional information.